Sponsorship disclosure: This blog article is not sponsored by any entity.
I was always fascinated by the internet; it is such an interesting place. It has so much information about pretty much any topic and can be a valuable tool for learning anything. I know I did in the past, as I leveraged all kinds of materials, from product user guides to user blog tutorials, from Youtube videos to forum discussions, you name it!
But the introduction of social media and smartphones in everyone's life changed everything. It turned the internet into a huge dump of useless and sometimes funny content that solely serves to entertain us. One instance of this funny content that I particularly enjoy is the meme format.
---
Contents
You are welcome to read the entire article or skip to a specific section by clicking below:
The Announcement: BIM Cartoons
Why BIM Cartoons
Copyright and Rights Use
Cartoon Topics
Languages
Schedule
Final thoughts
Shout-outs
Works cited
Resources
---
The Announcement: BIM Cartoons
I'm excited to share with you the following announcement:
I am launching a new initiative called "BIM Cartoons" to share satirical cartoons/memes about BIM situations and issues in the workplace.
Although this may seem weird right now, you will see what I'm talking about as early as next week. I believe it will be fun and very relatable to anyone that has worked or currently works in the field of BIM.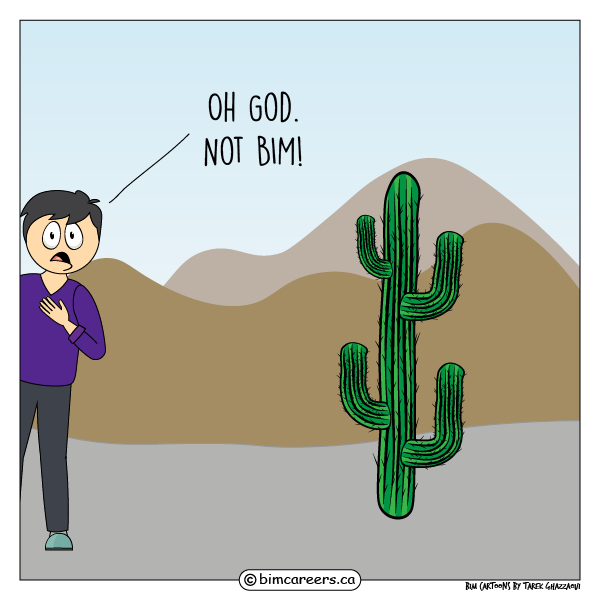 Yep, that's what the cartoons will look like!
---
Why BIM Cartoons
Why not? I already share very serious perspectives about topics in BIM through my blog articles and video podcasts, so this is an avenue for me to be relaxed, funny, sarcastic, and witty online.
Here are the informal objectives of this initiative:
To make fun of situations at work that BIM professionals experience or have experienced
To indirectly highlight some of the issues that BIM professionals experience or have experienced using visuals and literary devices, including metaphors, similes, imagery, symbolism, personification, hyperbole, irony, juxtaposition, paradox, allusion, allegory and ekphrasis
To express points of view from different stakeholders' perspectives on BIM situations and issues
I decided to add a satire component to my blog as it is one of my favorite and natural ways to express myself, as it combines comedy with sarcasm.
---
Copyright and Rights of Use
All Rights Reserved. All cartoon material appearing on the BIM Careers website ("content") is protected by copyright under Canada's copyright laws and is the property of Tarek Ghazzaoui or the party credited as the provider of the content. You may not reproduce, perform, modify, create derivative works, or in any way exploit any such content, sell or offer it for sale, or use such content to construct any kind of database.
You may not alter or remove any copyright or other notice from copies of the content on the BIM Careers website. Using the content for academic or commercial purposes is prohibited without prior written permission of Tarek Ghazzaoui or the copyright holder identified in the individual content's copyright notice. For permission to use the content on the BIM Careers website, please consult the Contact us page.
To read the full disclaimer, please consult the Disclaimer page.
Note: this copyright notice was paraphrased from Montclair State University's copyright notice. (Source: Copyright And Disclaimer )
---
Cartoon Topics
Well, the bottom line is, nothing is off limits. However, the nature of the cartoons will be more technical than my blog articles and video podcasts, as this type of satire needs to relate to more day-to-day operational situations in the context of BIM.
The following is a non-exhaustive list of the BIM topics that will be made fun of:
BIM

Management
Collaboration
Coordination
Analysis
Quality control
Documentation

Corporate management
Project management
Technical practice
Human resources
Project and office situations
---
This should be fun!
Right?
Right??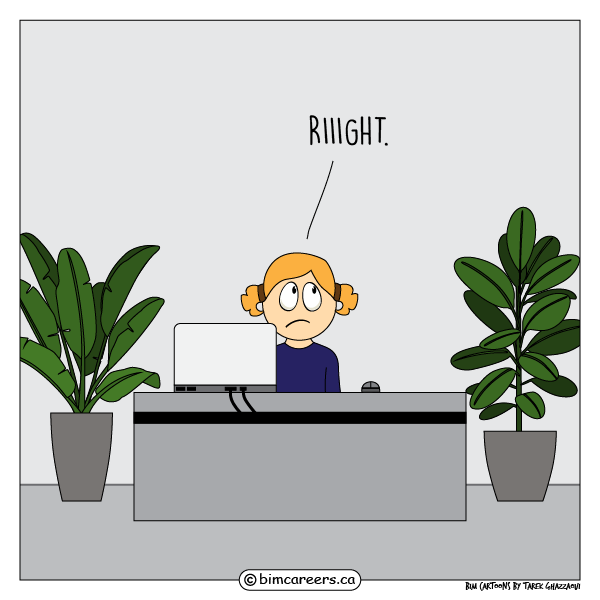 Well, I hope that doesn't get me in hot waters, as all satire is prone to do at some point. What matters is the intent, and I personally don't have the intention to defame, insult, disrespect, dishonor, cause harm, cause injury, cause loss of reputation or negatively affect any individual, firm, industry, association, organization, country or any of their products, services and third parties. The same applies for gender, age, race, ethnicity, religion, minority group association, political affiliation or any other criteria.
The topics at hand aren't as sensitive as politics or religion anyways, so let's all just take it easy and have fun!
---
Languages
I have great news! BIM cartoons will be released in English and in French to reach a broader audience worldwide. I am a proud francophone myself, and all content will be translated or slightly changed in different languages.
---
Schedule
I plan on posting a BIM cartoon every Friday starting on October 29th, 2021, right on time to cheer you up for the weekend! Since most of us are working from home, consider this an online donut. You're welcome.
---
Final thoughts
I put in a lot of thought, time and effort into launching BIM Cartoons as a funny and smart satire in a cartoons format. As far as I know and I see, there is nothing like it anywhere online, so I hope it will be appreciated and widely shared. My vision is to make BIM professionals in the architecture, engineering and construction (AEC) industry chuckle, smile and laugh at situations they can relate to in their everyday work.
After all, we do make jokes that revolve around some of the topics I will touch on in these cartoons, but the difference here is this initiative is more professional, official and public. As I mentioned in the article, I have no bad intentions towards anyone, so let's all have a good laugh!
Thank you for taking the time to read my blog article and I'll see you again soon.

Tarek Ghazzaoui, Eng.
BIM Manager
Shout-outs
Special thanks to the following individuals and entities for their contribution to this article:
| Name | Role |
| --- | --- |
| Juju (my cat) | Late night check-ins and cuddles |
| Ileana (my girlfriend) | Content and concepts validation |
| Ziad (my brother) | Concepts validation |
Works cited
"Copyright and Disclaimer." Copyright And Disclaimer – Montclair State University, www.montclair.edu/about-montclair/copyright-and-disclaimer/.
---
Resources
None.
Got 30 seconds? We'd love to hear your feedback!